Panel A: 3rd panel area retreat successfully accomplished
The Panel A (Theoretical/Computational Chemistry and Functional/Sustainable Material) has successfully accomplished its first scientific retreat which took place on 15.11.-17.11.21 in Abbey Seitenstetten in Lower Austria and was masterfully organized by:
Assoz. Prof. Dipl.-Chem. Dr.

Christian Schröder

(Institute of Computational Biological

Chemistry

)

Claudia Iriate Mesa

(Institute of Inorganic Chemistry - functional materials, Kleitz group)

David Hernandez-Castillo

(Institute of Theoretical Chemistry, González group)
With great support on-site:
Florian Jörg

(

Institute of Computational Biological

Chemistry, Schröder group)

András Szabadi

(

Institute of Computational Biological

Chemistry, Schröder group)
The panel A started its retreat with speed dating sessions as a great icebreaker, so present PIs and students were able to get each other to know in an entertaining way first prior diving to the science part right away. Besides being an informative, networking and fun event in a rustic setting of a Benedictine monastery, the participants enjoyed inspiring presentations held by young faculty and new DoSChem (supervisor) member and peers outside the Uni Wien, were confronted with the idea of academic integrity and responsible research, and received a glimpse into industrial research:
Moreover, the programme was rounded up by hiking together and playing board games.
Please find the highlights of the panel A retreat within the picture gallery (photos kindly contributed by Peter Lieberzeit) and bullet points outlining best talks poster awards below. All abstracts of the talks and posters can be found here.
Best talk award:

Kathrin Weiland

(

Institute of

Materials Chemistry

,

Bismarck group) "Poop and Prejudice: Upcycling of manure into value added products".
Best poster award:

Moritz Zelenka

(

Institute of Physical Chemistry,

Backus group)

:

"Influence of flow on the MgO-water interface".
Thank you, Panel A! Well done!
Dr. Philipp Marquetand (Privatdoz): "Excited-state machine learning molecular dynamics"
Prof. Marcel van der Heyden (University Medical Center Utrecht): "Research Integrity"
Prof. Karin Föttinger (TU Wien): "Operando studies of metal and oxide catalysts: Mechanistic insights and structural dynamics"
Prof. Markus Valtiner (TU Wien): "Complementing theory and experiment: Examples and challanges from (electrochemical) interface science"
Prof. Maren Podewitz (TU Wien): "Predicting reactivity and selectivity - towards in-silico design of catalysts"
Research Scientists Julian Fuchs and Lorenz Herdeis with insights on Boehringer-Ingelheim.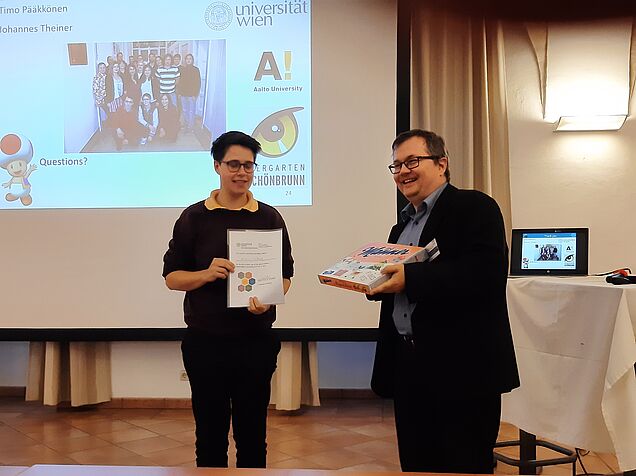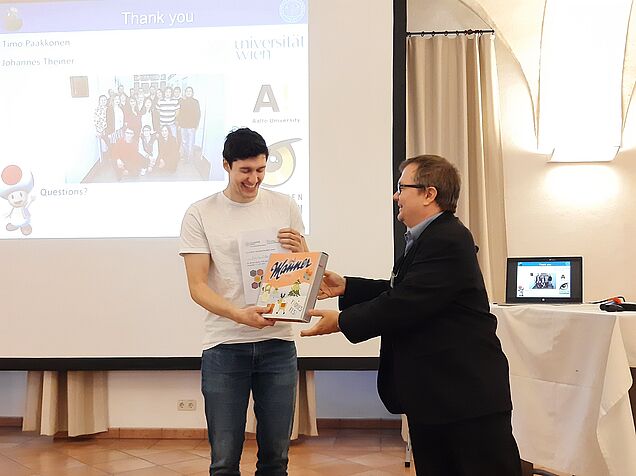 Previous Slide
Next Slide